3/4

3.5/4

1/4

3/4

2.5/4

1.5/4

3/4

3/4

1.5/4

3/4

3/4

2.5/4

2.5/4

3/4

3/4

3/4

2.5/4

1.5/4

3.5/4

1/4

3/4

2.5/4

1.5/4

2/4

2/4

Next 25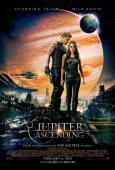 Jupiter Ascending
The Elephant beyond the stars
1.5/4 stars
Jupiter Ascending probably has one of the funniest scene so far in 2015 and that is the scene where a captain of this ship who's in a war battle and the captain says "Full speed a head", and it pans down to this elephant man like creature and it makes the funniest noise ever and of cause I laughed my head off.

The story is about Jupiter Jones (Mila Kunis), who was born under a night sky, with signs predicting she was destined for great things. Now grown, Jupiter dreams of the stars but wakes up to the cold reality of a job cleaning other people's houses and an endless run of bad breaks. Only when Caine (Channing Tatum), a genetically engineered ex-military hunter, arrives on Earth to track her down does Jupiter begin to glimpse the fate that has been waiting for her all along-her genetic signature marks her as next in line for an extraordinary inheritance that could alter the balance of the cosmos.

I can't remember the time where the Wachowski made a good movie after the Matrix. Since then they made bad movie after bad movie and I don't know what to blame the writing or the directing, I think both since the Wachowski written and directed they movies and Jupiter Ascending is another one of they failures. Now I'm not the one who likes to bash some one who I know has great talent but I think some great talent forgot what made them so special in the first place.

For the positive: The first action scene in this movie I got to admit it was on the same level of spectacular has the Matrix. The hairs on my arm stood up, it was truly breathtaking and unique. The score by Michael G Keno was just fantastic to listen to and Channing Tatum and Sean Bean was okay in the film. For I split second I thought this movie was going to be good, but then I sawed the rest of it and it left a bad taste in my mouth.

Now for the bad and there's a lot: Mila Kunis in this movie pretty played the dumb damsel in distress that needs a man to save her ever 20 minutes and her character feels really miss cast and if they just cut her out of the movie it wouldn't make a difference, I mean really Wachowski? you could have done better than that I mean come on. Oh I almost forgot the dialogue in this movie was so bad it was Twilight dialogue bad.

The Visual Effect's as well looked pretty fake at times even if it's in the background or the CG creatures, it still looked fake.

Now we all know by now that Eddie Redmayne is a good actor. We know he can deliver dialogue and make it feel real and serious like a person, but in this I had no idea what on earth what he was doing. Over the top, chewing up scenery after scenery, laughable bad and a weird voice that's sounds like Richard Harris Dumbledore mix with Nicolas Cage if he was drunk and high. His performance was Razzie worthy bad and I don't blame him for this, I blame the writing and the directors because there they telling him what to do so I won't blame him for it, but come on Eddie I know your a nice guy in real life but did you even think "Wow this is pretty laughably bad I should ask the directors to change it".

Overall Jupiter Ascending is just a Sci-Fi smash together mess. The action scenes may have been the only enjoyable part of the movie, but even that couldn't save this uninspiring, bloated mess of a film.