2/4

3/4

3.5/4

1/4

3/4

2.5/4

1.5/4

3/4

3/4

1.5/4

3/4

3/4

2.5/4

2.5/4

3/4

3/4

3/4

2.5/4

1.5/4

3.5/4

1/4

3/4

2.5/4

1.5/4

2/4

Next 25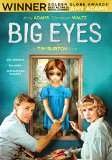 Big Eyes
"Eyes are the widows to the soul."
3/4 stars
Tim Burton looks like he's going back to his roots of what made his films great from the first place. That's nice news I like to hear.

Big Eyes tells the story of a painter "Margaret Keane" flourished in the 1950s, as her paintings featuring children with large eyes became the rage. In the 1960s, her husband Walter Keane started taking credit for her work, leading to a long, difficult legal battle.

Tim Burton back in his glory days was the best. Releasing movies that turn out amazing or great, but something happened with Burton when he started directing remakes of classic movies or old TV shows. Yeah Tim made so pretty crappy movies in the 2000's such as: Plant of the Apes (2001), Charlie and the Chocolate factory, Alice in Wonderland and Dark shadows. At one point I was losing hope for him as the great director that he was is soon gone, until a film called Frankenweenie came out in 2012 that I actually liked and give me more hope for Burton. And now I sawed Big Eyes and yeah Burton still got it, because this movie is pretty damn good.

Amy Adams pulls off once again a fantastic performance in this movie. She brought such a powerful weight and a heart hitting performance to her character that's actually base on Margaret Keane that you has a viewer knows how she feels as her dream has been taken away from her. Shes such a brilliant actress that it's kind of sickening that she hasn't won a Oscar yet, I mean come on.

Christoph Waltz in this movie was good but I think at times he dose come off over the top, a bit cartoony and not on this earth human been who would act like this person. But I can't conform that yet, because Margaret Keane is still alive today and maybe she described him like that and Waltz got him spot on, but I still can't conform that yet. But anywhere Waltz has I said was good but I bit cartoony.

Tim Burton directing a movie with no white face paint, No Johnny Depp or his wife Helena Bonham Carter, a simple movie with so beautiful shot scenes that the good all Tim Burton use to do in his golden days....yep Burton's back everyone and he shows that he still can do drama and he still dose. Now would I put this up there with ED wood or Big Fish? no but it's good to see Burton still got it after years of directing and in this he did pretty good.

For problems: The start of this movie didn't really suck me in with it's story and character's, it's until later on it finally did. The movie did drag at times and has I said before about Waltz being a bit cartoony at times.

Overall Big Eyes was a lot of fun to watch. Amy Adams dose a brilliant job in this film and this is a solid Tim Burton film.