1.5/4

3/4

3.5/4

3/4

1/4

1.5/4

3/4

1/4

1/4

2.5/4

1.5/4

2.5/4

3.5/4

3/4

2/4

3/4

2/4

3/4

3.5/4

1/4

3/4

2.5/4

1.5/4

3/4

3/4

Next 25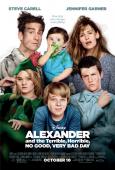 Alexander and the Terrible, Horrible, No Good, Very Bad Day
Alexander is a A-hole
2/4 stars
"Some days are just bad days, that's all. You have to experience sadness to know happiness, and I remind myself that not every day is going to be a good day, that's just the way it is!" - Quote from Dita Von Teese

The story is about a 11-year-old Alexander (Ed Oxenbould) as he experiences the most terrible and horrible day of his young life-a day that begins with gum stuck in his hair, followed by one calamity after another. But when Alexander tells his upbeat family about the misadventures of his disastrous day, he finds little sympathy and begins to wonder if bad things only happen to him. He soon learns that he's not alone when his mom (Jennifer Garner), dad (Steve Carell), brother (Dylan Minnette) and sister (Kerris Dorsey) all find themselves living through their own terrible, horrible, no good, very bad day.

This movie is clearly not for me as I normally don't like these kind of films. I always try my best to avoid these kind of things has soon has possible. what's so annoying is when I see that cliche family smiling or looking like their been through a ruff day while something "really goofy" is happening in the background, straight away I know the movie is going to suck and this movie dose suck.

I'm so surprise to see Steve Carell in this, even when I sawed him in a much better film FoxCatcher, where it that film he give me a deep unsettled feeling inside of me, but in this he just plays the family dad that's perfect and the best of what he dose and all that rubbish. In this movie he just plays Steve Carell and nothing else really. It's rather interesting that Carell can pick these comedy movies and dark dramas as well. That shows how good of a actor he really is and it's always depressing when I see him in movies like this.

Ed Oxenbould who plays are main character (Alexander) and the kid dose fine in this movie, not a great performance more like a okay one. Alexander himself is a bit of jerk when you really break it down. Now you're probably thinking, "Matt how could you call the main character of the film who is just a little boy a jerk?". Now let me explain. You can already tell by the story and the trailer that Alexander is having a pretty awful day and his family at the first is having a great day. Happy has their are, Alexander doesn't like seeing his family happy and such, so he wishes for them to have the same awful day that he had, and they do and their smiles rub off their faces has cold misery glues to their face where their smiles where. And the family are not jerks or anything like that. They just happy of what there getting and this little brat had to ruin that for them by wishing something so awful on them. If I was having a bad day and I saw my family happy it will make me happy. Oh and I hate the fact that on the poster his smiling "Ha Ha everything is all good even in the future I have to deal with stress and other stuff. But who cares I'm happy and that matters".

Now It seem like I'm ranting over this movie and I kind of am, but the movie dose have it's good parts surprisingly like: There are some good slapstick humor in the movie and I like the family in this movie (Not Alexander)

Overall Alexander and the Terrible, Horrible, No Good, Very Bad Day is just a mediocre straight forward shallow movie. Kids and Family may enjoy it but I know I totally didn't.