2/4

3/4

3.5/4

1/4

3/4

2.5/4

1.5/4

3/4

3/4

1.5/4

3/4

3/4

2.5/4

2.5/4

3/4

3/4

3/4

2.5/4

1.5/4

3.5/4

1/4

3/4

2.5/4

1.5/4

2/4

Next 25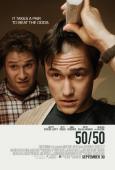 50/50
50/50 is simply the best movie of 2011
4/4 stars
I never thought a film like 50/50 that has drama mix with comedy, all about cancer, could be a fantastically well done comedy with a little touch of drama that's been handle so well in this film, because 50/50 is one of the best movies of 2011.

The story to 50/50 is about a young man is diagnosed with a rare form of spinal cancer and decides to fight for his life with the help his friend, mother and a young therapist.

When 50/50 first came out back in 2011 I didn't take much notice on it, as I was only watching movies that I wanted to watch, and let's not forget I was only about 12 years old at that time, and as a brainless 12 year old, I liked Green Lantern and Transformers: Dark of the Moon but skipped this movie, and boy was it the biggest mistake of my life for skipping this movie.

This has to be Joseph Gordon-Levitt best role that he was in, because in this movie he showed anger, sadness and pure happiest with his friend, and Joseph nailed all those three and he carried this movie by his actions and his performance that was nothing short, but spectacular in any way.

Now I'm going to get this out of the way, but I thought Seth Rogen was going to be annoying in this movie, just by the posters and the trailers made it out that he was annoying tool, but my god I was dead wrong about Rogen, because in this movie I saw Seth Rogen giving a serious, but still funny performance, and I'm not kidding you but in this movie he almost made me cry and I never thought that could be possible. His character is supportive, caring and really caring and it's all by the brilliant performance from Seth and the movie groundbreaking writing.

The writing is some of the best written comedy and the most down to earth wring I've seen in a while, and I'm still shocked that this movie didn't get a Oscar Nomination for writing. Man f''k the Oscars.

Now I normally don't do this in my reviews and what I mean is like I don't talk about big dramas or something very serious happening in my life, because it's my life and it's private, but now I have to get something out there and I want you all to know why I think this movie is freaking fantastic, is because one of my family members use to have cancer and that was my mum, while she was going through chemo and surgery. I watched her and supported her and I saw her doing extreme and crazy things that she will never do before, and as a person (Like me) who had to go through something so horrible like that and then watch 50/50 a movie that to me get's anything right and the character's that feel like people not movie character's that's why I think this movie is just flawless and get's it right.