1/4

2.5/4

1.5/4

2.5/4

3.5/4

3/4

2/4

3/4

2/4

3/4

3.5/4

1/4

3/4

2.5/4

1.5/4

3/4

3/4

1.5/4

3/4

3/4

2.5/4

2.5/4

3/4

3/4

3/4

Next 25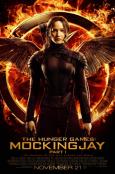 The Hunger Games: Mockingjay Part 1
Not as good as Catching Fire.
3/4 stars
Remember Harry Potter and the Deathly Hallows: Part 1, were nothing really exciting happens in that movie, and the movie has a slow paste run time and they try to save the all the exciting and awesome parts in part 2, and now we got Mockingjay and I can happily say that Mockingjay is a little better than Deathly Hallows Part 1, but it does lack of the two parter thing and this movie is not near from perfect.

Mockingjay Part 1 continues the story has Katniss Everdeen along with Peeta Mellark, and a handful of other survivors, have successfully escaped the Quarterquell thanks to helps from Haymitch Abernathy and former gamemaster Plutarch Heavensbee. But escaping is just the start, as Katniss finds herself having to embrace the symbol she has become to the people of Panem - a symbol of rebellion against President Snow and the autocratic Capitol.

I was really looking forward to Mockingjay, because I thought the squeal (Catching Fire) was a big improvement and just overall a better movie then the first one. The trailer to Mockingjay won me over by it's excellent tone and it's brilliant shots, and I was actually counting down the days for the movie release, but now after seeing the film I got to say.... I'm a bit disappointing. Now let me get something out there, I don't hate this movie, I just think it's really disappointing for and please don't hate me for this.

Let's start off with the good things in this movie: Jennifer Lawrence was just flawless in this movie and now every time I see her in interviews or new movies I straight away like her as a person and as a actress. Rest of the cast did good as well. The movie had that Apocalypse settings to it and it suited the tone of the film and I'm just happy they got that right.

Now for the things that did not work at all and came off messy: The fact that this is a two parter really spoils the film for me, because without giving away anything, but basically this movie is just a set up for the next film and sometimes movies can pull that off, but when the the second part comes out not a lot really of people won't be talking about part 1 anymore, just like Harry Potter and I know I keep bring up Potter a lot but it's really hard not to.

The movies pasting is like watching a snail starting walking to point A to point B, that's the movies paste right there. The movie really wants me to care about the character's and the character's may not be boring, but there not really that interesting to me.

Overall Hunger Games: Mockingjay Part 1 feels less then a stand alone film, but more of a cash grab and I hate saying that because I really wanted to like this and I trying my damn best, but I'm sorry for letting you all down but this movie was a disappointing to me and saying that sucks.