3/4

3.5/4

1/4

3/4

2.5/4

1.5/4

3/4

3/4

1.5/4

3/4

3/4

2.5/4

2.5/4

3/4

3/4

3/4

2.5/4

1.5/4

3.5/4

1/4

3/4

2.5/4

1.5/4

2/4

2/4

Next 25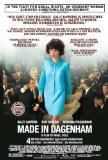 Made in Dagenham
Cheeky and inspiring movie.
3/4 stars
Lisa: "Because I called Mr. Clarke a complete cock."

The story to Made in Dagenham takes place in 1968 Ford Dagenham strike, in which 850 female employees left to protest sexual discrimination.

This movie to me was Uplifting, cheeky and inspiring for women. The movie has a huge cast and there all do a flawless job in their roles. Some of the character's in the movie were funny and likable, even Sally Hawkins character in this movie was a true fighter who would do anything to help women to get there rights and respect that they needed. The writing was great, the directing by Nigel Cole was brilliant and well done.

But the movie does have some character's in this movie that are Forgettable or Wasn't all that interesting. But those character's are in the background for the most of the movie, but when they have their screen time it was painful.