2/4

3/4

3.5/4

1/4

3/4

2.5/4

1.5/4

3/4

3/4

1.5/4

3/4

3/4

2.5/4

2.5/4

3/4

3/4

3/4

2.5/4

1.5/4

3.5/4

1/4

3/4

2.5/4

1.5/4

2/4

Next 25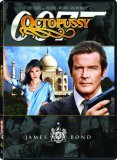 Octopussy
Bond dressed up as a clown... how edger.
3/4 stars
James Bond: "You'll need this to play with your asp".

The story is about James Bond follows the smuggling ring to a circus ran by the alluring Octopussy. The plot leads to a mad Soviet general bent on starting World War III.

This movie started off pretty strange, and I'm not going to give away too much but the movie opens up with a clown getting chase in the Forrest by some hit men. Is that how you open a James Bond movie, a clown getting chase and then killed?.

Octopussy in my opinion is way better than For your eyes only, because this movie at least has a better and more remember-able villain and the movie knows what it is and just goes for it. The action scenes were excellent and fun to watch. The visual effect's to me were just mind blowing, because they is a scene where Bond is hanging on for dear life when he's trying to stop the bad guys in a plane, but the bad guys are spinning the plane around trying to knock him off, and that scene felt so real even my hands got a bit sweating during that scene.

Now my only problems with the movie is it's annoying puns and it's WTF moments. If you hate or can't stand it when the character's in movies make unfunny puns then Octopussy isn't the movie for you, because this movie filled with puns like "That's handle" or "There she blows". The movie has a lot of strange, goofy and weird moments that I keep saying to myself "WTF?" Like James Bond dressed up like a clown to blend in with the circus, and yes I'm saying that right. James Bond is the man who made other men jealous, he also is the man who slept with thousand of women, who saved many lives in his days, and now his dress up like a clown... how edger.

Overall Octopussy is a fun 80's action flick that was way better than For your eyes only, but it does reach the same level as the other good Bond films.