3/4

3.5/4

1/4

3/4

2.5/4

1.5/4

3/4

3/4

1.5/4

3/4

3/4

2.5/4

2.5/4

3/4

3/4

3/4

2.5/4

1.5/4

3.5/4

1/4

3/4

2.5/4

1.5/4

2/4

2/4

Next 25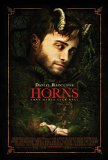 Horns
This should good... or not ?
3/4 stars
Daniel Radcliffe with devil horns in a movie directed by Alexandre Aja, this should good... or not.

The story is about Daniel Radcliffe character when one day, he inexplicably finds a set of horns has grown out of his head - and it gives him a new power - a power to finally find the person responsible for the devastation in his life.

This movie started off pretty damn good with are main character which you hate at the start, but as the film went on he became a bit likable. Daniel Radcliffe in the film was really good in this movie and I want to see him in more movies. I liked that light dark tone the movie started off with, until the last third of this movie kind of fell a part for me. The movie lost it senses of fun and lost it's dark humor with the last part of the movie being pretty weak. But the directing I though was good and Daniel Radcliffe was brilliant in this film.