2/4

3/4

3.5/4

1/4

3/4

2.5/4

1.5/4

3/4

3/4

1.5/4

3/4

3/4

2.5/4

2.5/4

3/4

3/4

3/4

2.5/4

1.5/4

3.5/4

1/4

3/4

2.5/4

1.5/4

2/4

Next 25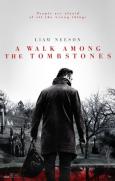 A Walk Among the Tombstones
This is a good watch.
3/4 stars
In this film Liam Neeson is playing... Liam Neeson, like always.

The film is about a ex-NYPD cop who now works as an unlicensed private investigator operating just outside the law. When Scudder reluctantly agrees to help a heroin trafficker (Dan Stevens) hunt down the men who kidnapped and then brutally murdered his wife, the PI learns that this is not the first time these men have committed this sort of twisted crime...nor will it be the last. Blurring the lines between right and wrong, Scudder races to track the deviants through the backstreets of New York City before they kill again.

The one thing that I didn't see coming was how dark the was movie. The villains in the film are just the worst human beings on the face of the earth. There where creepy people and overall terrible people. Liam Neeson did a good job in the movie and this time does play a different character a little bit. Like in this movie he's a a lot darker and messed up character then he other movies. The sound mixing and editing in this film is some of the best sound in film since Gravity. My only problems with the movie is that it slows down at times or some scene didn't work for me. Overall this is a good watch.