2/4

3/4

3.5/4

1/4

3/4

2.5/4

1.5/4

3/4

3/4

1.5/4

3/4

3/4

2.5/4

2.5/4

3/4

3/4

3/4

2.5/4

1.5/4

3.5/4

1/4

3/4

2.5/4

1.5/4

2/4

Next 25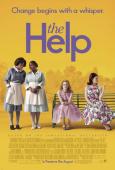 The Help
"Eat my sh't".
3.5/4 stars
Minny Jackson: "Eat my sh't".

The movie takes place during the 1960s, who build an unlikely friendship around a secret writing project that breaks societal rules and puts them all at risk. From their improbable alliance a remarkable sisterhood emerges, instilling all of them with the courage to transcend the lines that define them, and the realization that sometimes those lines are made to be crossed-even if it means bringing everyone in town face-to-face with the changing times.

The strongest part of this movie is the is all the performances. Viola Davis almost brought me into tears, am not kidding. Her character goes through a lot of sh't in this movie and I felt so sorry for her. Bryce Dallas Howard did a great job of playing such a horrible and despicable character in this film, I wanted to hit her so baldy for being a cold hearted bitch. Octavia Spencer in this movie is out of this world brilliant. She played the role so brilliantly that her character felt like a really person and not a movie character. The writing and the directing are all good. The movie overall is a powerful movie with a great cast and fantastic performances.