2/4

3/4

3.5/4

1/4

3/4

2.5/4

1.5/4

3/4

3/4

1.5/4

3/4

3/4

2.5/4

2.5/4

3/4

3/4

3/4

2.5/4

1.5/4

3.5/4

1/4

3/4

2.5/4

1.5/4

2/4

Next 25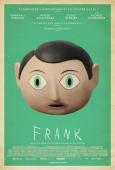 Frank (2014)

3.5/4 stars
This has to be the most oddest, touching and funniest movie that I have seen this year.

The movie is about a keyboardist looking for his big break joins an eclectic pop band fronted by the mysterious Frank - the lead-singer who never removes his paper mâché head.

This is by far my favorite movie of 2014. The acting in the movie was freaking fantastic, the writing was well written and it was new and refreshing, not like other movie these days. The main character of the film Frank played by Michael Fassbender, and I have to say frank is the most interesting character in this whole film. The other characters in the film are interesting to but I think frank is most interesting to me.