1/4

2.5/4

1.5/4

2.5/4

3.5/4

3/4

2/4

3/4

2/4

3/4

3.5/4

1/4

3/4

2.5/4

1.5/4

3/4

3/4

1.5/4

3/4

3/4

2.5/4

2.5/4

3/4

3/4

3/4

Next 25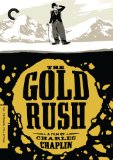 The Gold Rush

3/4 stars
The Lone Prospector: "Don't forget the bacon".

The story is about a man ventures into a new life looking for gold when he falls in love with Georgia. Will he strike it rich? Silent.

Charles Chaplin directors and stars in this silent film and as usual it is funny and well done. The effect's in this movie was pretty damn good if I got to say. this movie was made back in 1925 and the effect's sill look better today. This is in my opinion not the best Chaplin film but a lot of hard work was put into this movie and I got to give them two thumbs up for that.