1/4

2.5/4

1.5/4

2.5/4

3.5/4

3/4

2/4

3/4

2/4

3/4

3.5/4

1/4

3/4

2.5/4

1.5/4

3/4

3/4

1.5/4

3/4

3/4

2.5/4

2.5/4

3/4

3/4

3/4

Next 25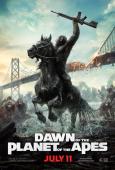 Dawn of the Planet of the Apes
Apes on horses.
3/4 stars
Koba: "Caesar weak". / Caesar: "Koba weaker".

The two sides come to a fragile peace. But this peace will not last and soon a war arises - one whose outcome will determine which species remains the dominant force on the planet.

2014 summer movies just keeps on getting better, Because this sequel is on the same level of awesomeness as empires strikes back and the dark knight. Andy Serkis needs a freaking Oscar and I know a lot of people have been saying that but it's true. The visual effect's are so realist and so well made. Matt Reeves brings something new to the table and he does it so brilliantly. The story is good and the rest of the human cast are great in the movie and overall this movie is by far the most new and the refreshing films yet.