4/4

3.5/4

3/4

3.5/4

3.5/4

3.5/4

3.5/4

4/4

4/4

2/4

3.5/4

3/4

3.5/4

2/4

2.5/4

2.5/4

3/4

3.5/4

2.5/4

4/4

3/4

1.5/4

3.5/4

2.5/4

3.5/4

Next 21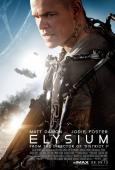 I really loved "District 9" this movie was brilliant, but this one "Elysium" is not even worth comparing.

It is really hard to see that D9 and Elysium are made by the same director. Here everything is shaky-cam or blurred. The landscape shots of the f*cked up Earth were cool and cruel but this does not change a huge part. Another difference was the production of this movie, D9 had a budget of only 37million dollars and "Elysium" had a 100 dollar budget. (Mostly spended on Matt Damon and Jodie Foster) So this movie was not special it was just an usual Sci-Fi blockbuster.
The script of Elysium really lacks. I could start name some boring physical facts but let's skip that. The characters are so clichéd, the nun who tells Max he is something special. Come on! He can't even read. And of course the big shoot-outs were getting boring towards the end an exploding head here some blood flooding over the camera there. Awful. That steals the suspense.
Matt Damn scratches one of his best perormances but Jodie Foster gave the weakest performnce of her career.

Elysium did not impress me nor did it totally fail.