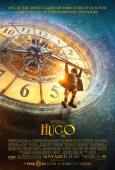 So here's the thing: I may be one of the few people who gets what Hugo is really about and still hates it. Actually, let me rephrase: I greatly dislike the characters. Before I get into that, allow me to back up everything I like and love about the movie.

The cinematography is something to commend beyond an Academy Award. Scorsese makes his tone and theme very clear given the script and does some of his best direction with it. The editing perfectly mirrors the old techniques used in silent films, a motif of the film's story. I especially love the color scheme shown in the Train Station, and the contrast of it everywhere else.

Here's what I don't like: the characters.

Hugo is a whiny little brat who never learns from his mistakes, not to mention he just sounds extremely annoying. The film shows so many flaws of his without really admitting it. It's played off like he's a Christ figure, but he's so far from perfect that if he were a face, it would be covered in boils. Isabelle, Georges Mélies' godchild, is a very selfish and rude individual. She constantly brings up extremely touchy subjects with Hugo, and threatens not helping him when she doesn't get the juicy tragedy.

Most importantly, Mélies himself is far too bitter. I understand the torment that he went through, but there's a better way to convey his pain than to make him a whinging drama queen paralleling Chris Crocker. Fortunately, he has a character arc by the end of the story. Everyone else on the other hand (except for the Inspector), does not change a bit. They simply become relieved knowing that everything will be okay.

I do not judge people for disliking this movie. I feel that it gets better as it goes along, and its peak is during the flashback scene of Georges' career. It's extremely well made in every respect except for the narrative. It's contrived, melodramatic, and at times just painful.