2/4

3/4

3/4

3/4

3.5/4

3.5/4

2.5/4

2/4

2.5/4

2.5/4

3/4

3.5/4

2.5/4

3.5/4

3.5/4

2.5/4

N/A

2.5/4

3/4

3/4

2.5/4

3/4

3/4

3/4

3/4

Next 25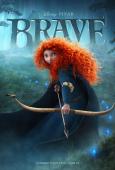 Brave
Could've been better.
2.5/4 stars
Rule of thumb: A bad Pixar film is always better than a bad film produced by any other studio. This just happens to be a average-at-best Pixar film. It's really a simple tale on the surface about a girl who doesn't want to be forced into a marriage. I found the story to be just a little thin. I know it's an animated film, therefore, it's aimed towards children, but Pixar is usually good for some adult moments, I didn't really see any here. That's all I'll say about the story, let's talk about the visual.

They're amazing! It's definitely one of the best looking films I've ever seen. It seems like the main talking point about this film is the red hair. And it should be, for animated hair, there has been nothing better. I think the film could have been better visually if the humans were a little less cartoony and even more realisitic. Smaller eyes, smaller heads, and less ridiculous bodies.

This film has its flaws, but like I said above, an average or even bad Pixar film is usually better than most other movies.