2.5/4

3.5/4

2.5/4

3/4

3/4

3.5/4

2/4

3/4

3/4

3/4

3/4

2.5/4

3/4

2.5/4

2/4

3.5/4

2.5/4

3/4

3/4

3.5/4

3/4

3/4

3/4

4/4

2.5/4

Next 25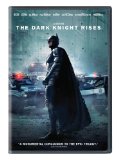 The Dark Knight Rises
LOTS OF SPOILERS!!!
3.5/4 stars
Probably the best film of the year. But, it doesn't live up to the precedent that The Dark Knight set. The acting is top-notch, as always, but the screenplay I found utterly predictable with one exception, the reveal of Talia Al Ghul. However, my wife called it as we were sitting there, so, I guess it was predictable as well. But, my biggest beef, with the film is the end when John Blake, whose real first name is revealed to be Robin. What crap! Not, that I'm a huge fan of the comic, I'm not really a comic book fan at all, but I do know a lot of the mythology surrounding these characters portrayed in film, especcially the X-Men and Batman and nowhere does it ever mention a Gotham police officer becoming Robin. The Nolans have stayed true to the original source material for the most part, so shame on you for taking this leap.

Christopher Nolan has created a great film and a great trilogy although I never got used to the Batmobile/tank think that Nolan's version of Batman drove. But I think a better ending would've been to use the most famous of the Bane storylines, end it with him breaking Batman's back, but somehow have the cops defeat him. That way, there is renewed faith in the law in Gotham and the Christopher Nolan story of Batman if officially over. I didn't know much about the Bane character so I did some research (http://en.wikipedia.org/wiki/Bane_(comics)) and I found out some interesting stuff. Some of which is portryaed in the film.

Overall, I found it to be the 2nd best of the Nolan Batman trilogy, TDK 1 and Batman Begins 3.