2/4

3/4

3/4

3/4

3.5/4

3.5/4

2.5/4

2/4

2.5/4

2.5/4

3/4

3.5/4

2.5/4

3.5/4

3.5/4

2.5/4

N/A

2.5/4

3/4

3/4

2.5/4

3/4

3/4

3/4

3/4

Next 25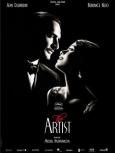 The Artist
Try it, you'll like it. But it's not perfect.
3/4 stars
It's black and white and it's silent, oh, and it was made in 2011. Good, I'm glad I got that out of the way, now I can write about things other than the obvious.

The obvious comparison is Singin' in the Rain (1952), what? Hear me out, both films, at their core are about the transition from the silent era to the era of the talkie and Singin' in the Rain, was, yes, a musical and The Artist is not, but they don't differ all that much when broken down to their cores. In Singin' in the Rain, Don Lockwood (Gene Kelly) is the handsome leading man who is able to seamlessly make the trasition, while his beautiful co-star Lina Lamont (Jean Hagen) is not. In The Artist George Valentin (Jean Dujardin) has no such co-star, he is the star. But, when talkies take over, he believes that nobody will want to hear him talk. The twist being that he's French. When looking at it this way, the Valentin and Lamont characters are quite similar. And like Singin' in the Rain, and with history books and hindsight, it foresadows the coming musical deluge that Hollywood thought we wanted to see (most did).

But, enough about the plot, the real story here in the fact that it's silent and in black-and-white. Peter Travers of Rolling Stone believes that The Artist is a "Hollywood" picture. Not "about Hollywood" but has that intangible "Hollywood" quality. I disagree, a "Hollywood" film would be something like Transformers: Dark of the Moon, the second highest grossing film of 2011. It has no redeeming qualities at all. But, Michel Hazanavicius took a chance with The Artist. Black and white has done terrible in recent years at the box office, and it's silent, this is a very indie movie with a very small audience. It's the probable best picture winner, but isn't even one of the 100 highest grossing films of the year. I don't know if it will win, or even if it should, but Travers is wrong. And you'd be wrong not to at least give this one a try. Is it perfect, no, in fact, it didn't pass the "watch test." Meaning, did I or didn't I look at my watch during the film, I did. But, it's more than an art house movie it tells a good story, regardless of the how it's presented, and it has John Goodman.