2/4

3/4

3/4

3/4

3.5/4

3.5/4

2.5/4

2/4

2.5/4

2.5/4

3/4

3.5/4

2.5/4

3.5/4

3.5/4

2.5/4

N/A

2.5/4

3/4

3/4

2.5/4

3/4

3/4

3/4

3/4

Next 25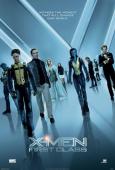 X-Men: First Class
The best X Film
3.5/4 stars
The best of the "X" movies. Michael Fassbender is great as Magneto. James McAvoy, like Alex also wrote, gets a little annoying at the end, but is good as Professor X. It's a really well told story, that slightly changes the history surrounding the Cuban Missile Crisis, maybe for the better, if only that would mean that mutants actually exist.

My one problem with the film, is this, if you're going to do a true origins story, I would like them to get their facts straight, or in this case stick to the source material. They tried to please fanboys of all ages and incorporate characters from every generation of the X-Men franchise. But, since we're going back to 1962 and the original Uncany X-Men #1 was released in September of 1963, I believe that they should stick to that timeline. No Wolverine, although I laughed at the Hugh Jackman cameo and we need the original 5 X-Men recruited by Charles Xavier: Cyclops, Iceman, Angel, Beast and Jean Grey. I know we've seen the characters before, but I believe in authenticity.

Still, go see it, it's fantastic. By the way, if you try and tell me that the series was rebooted in 1991 with different characters, that's fine, but then don't set it in the 60's. It just begs for those original 5 characters.