3.5/4

0.5/4

3/4

2.5/4

1/4

0.5/4

3/4

0.5/4

0.5/4

2/4

1.5/4

2/4

3.5/4

1/4

1/4

1/4

2.5/4

2.5/4

3.5/4

1/4

3/4

1/4

2.5/4

3/4

3/4

Next 25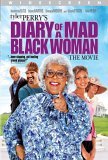 Diary of a Mad Black Woman
Diary Of A Mad Black Woman
2.5/4 stars
The movie title confused me at first, as it tricks you into the thinking that violent old black lady is the mad women, when really it is Helen, the main character.

Diary Of A Mad Black Woman is about Helen, and her struggle through a divorce. Her husband Charles had been cheating on her with another woman, and had 2 children with her, age 2-3, by the time Charles told her he wanted a divorce.

A chick flick most definitely, so guys stay away. I cried throughout most of this movie, because this film was made in such a way that it compells you and makes you feel what helen is going through.