3.5/4

0.5/4

3/4

2.5/4

1/4

0.5/4

3/4

0.5/4

0.5/4

2/4

1.5/4

2/4

3.5/4

1/4

1/4

1/4

2.5/4

2.5/4

3.5/4

1/4

3/4

1/4

2.5/4

3/4

3/4

Next 25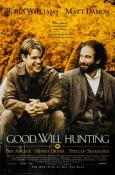 Good Will Hunting
Good Will Hunting
3.5/4 stars
I Loved. This. Movie. Actually, the main character, who Matt Damon plays reminds me of the main character from A Beautiful Mind, before he went schizo. And this might sound sortta strange, and probably no one will agree, but I reckon that Matt Damon looks like what the 13 year old Leonardo Di Caprio should have grown up to look like (okay, so this is the first movie I've sen with Matt Damon). So now I'm gonna stop rambling on about things that don't relate to this movie now.
I really love this film because it's got a little bit of everything. A little bit of comedy, sadness, strangeness, realism, etc. I was surprised that Gus Van Sant directed this film because most of his other movies consist of people walking around, not doing or saying anything. Okay, so I know they are supposed to be deep and meaningful, but I didn't get it. So Good Will Hunting was a pleasant surprise. Minnie Driver really annoyed me in the film, not that I have ever seen her in any other movies.
And finally, I would like to admit my utter strangeness by saying that I cried when Will's friend went to his house, near the end of the movie, and Will wasn't there. Even though his friend wasn't sad, that didn't stop me from feeling at loss, knowing that we wouldn't see Will Hunting again.