3.5/4

3/4

3.5/4

3.5/4

3.5/4

N/A

4/4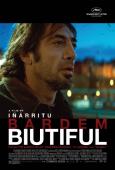 Biutiful
Powerful, Brutal.....yet Beautiful
3.5/4 stars
This powerful, dark, brutal, and unrelentingly stark movie is so compelling and so thoughtfully filmed, you soon find yourself thoroughly immersed in the squalid events and surroundings of the characters' lives; a challenging existence played out in the midst of filth and crumbling buildings in an impoverished part of Barcelona, the home of Uxbal - played brilliantly by Javier Bardem. The continual pall of the shadows that darken his features, mirror the grim environment and nearly every scene is a landscape of shadow and gloom; a claustrophobic and desperate existence that inexorably crushes Uxbal and his family. The endless rain and clouds perfectly reflect the bleakness that is Uxbal's life; entrenchment in an inescapable cycle of poverty, hardship, and/or exploitation. This dreary environment, coupled with his pitifully dysfunctional family life, contribute to Uxbal's despair and threaten to crush his spirit. Bardem portrays Uxbal's depression and hopelessness consummately; from his downcast, crushed demeanor to the inevitable exhaustion and pain he battles, as a terminal illness ravages him. Even the 'sexuality', depicted fitfully throughout Biutiful, is sad, ugly, sordid and completely devoid of any vestige of eroticism; tainted with despondency and exploitation, it evokes only pathos and disgust.
Uxbal's life is nothing short of sheer chaos as he struggles to care for his two young children while his bi-polar, drug-addicted wife, Marambra, played hauntingly by Maricel Alvarez, flits in and out of their lives, leaving in her wake a trail of turmoil and anxiety. One brief scene of happiness and 'normalcy' where he and his wife enjoy a meal with their children, stands out in stark contrast to the numerous vignettes of abuse, neglect and sorrow that normally stalk their lives. However, despite all that he is up against, Uxbal's love for his children is clear and he strives to care for them as best he can; this is evident when his daughter demands to know what's wrong with him and, finally liberated from the burden of hiding his impending death, he is able to show her his love and urge her not to forget him.

Despite his deteriorating health and miserable family situation, Uxbal must work and his involvement in several illegal money-making operations result in the exploitation of migrant workers. He tries his best to make their lives a little more tolerable, in contrast to his indifferent and often callous 'partners' but, ironically, it is one of his kind gestures that ultimately leads to a horrific catastrophe. Guilt, shame and horror at what he has been a party to haunt and consume him and he descends further into despondency and depression as his death approaches.

Biutiful may be a dark, painful and brutal portrayal of life but at the end of the day, Uxbal's selflessness and desire to do the right thing by his children, his troubled wife, and those whose lives he has tainted or destroyed, pay homage to the inherent goodness and strength of the human spirit, making this movie so much more than the portrayal of a sad and futile existence.