N/A

2.5/4

2.5/4

2.5/4

1.5/4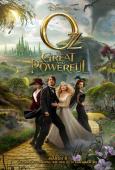 Oz the Great and Powerful
Oz Lost Somewhere Over The Rainbow
2.5/4 stars
"Oz The Great and Powerful" is one of those movies that gets reviews with extreme range. Some have said that the audacity of anyone to take on this project doomed it from the start. Others will go on and on about how beautiful and magical it is. I sit squarely in the middle.

The Good:

The World of Oz:

Is gorgeous. Sam Rami was inspired when he created his version of the World of Oz. It is a gorgeous technicolor dream with nearly flawless CGI work. This is one of the few instances when someone fully utilizes 3D effects to better a movie. There is a reference to the "Alice in Wonderland" remake but only in that "Alice" felt like the dry run for CGI work while "Oz" is the finished product. Rami's vision brings Dorthy's World of Oz to new life in the 21st century.

Some might say that it was the worst move to use so much CGI work in a movie that is to be the prequel to a movie with one the most lavish and intricate movie sets of all time. I would have loved to see real sets but I think this really works very well. I may change my mind if I see the 2D version of the film, but that is yet to be seen.

Rachel Weisz:

Is spot on! Out of all the witches, Rachel Weisz;s Evanora steals the show. She really got into her character and was easily the most believable. I have always enjoyed her movies, but now I'm really interested in her as an actress. I would be curious to see her take on darker roles.

The Flying Apes:

Are well done and freaking horrifying. As If "Planet of the Apes" (every single verision) didn't give me enough nightmares. It's so simple when it comes to Apes; do not anger or mess with their DNA. ::::Shudder:::::

Zach Braff's Flying Monkey:

Is adorable. I don't usually comment on the cuteness of something, but this little fella almost redeems monkeys for me = almost.

The Bad:

The Plot:

They had a very good ideas and then it all went sideways. This plot has more holes in it than Swiss Cheese. What they did with the origins of these witches will make you cringe. They should have visited the "Wicked" series for inspiration before pen ever hit paper. Oye.

James Franco:

Love him or hate him, everyone can agree that this movie was not for him. It's easy to see why Robert Downy Jr. and Johnny Depp passed up on the role of Oz. The character was written as the most unlikeable character in this movie with few, if any, redeeming qualities. He is the anti-hero that no one wants to route for; even when we're supposed to. This was a difficult character to take on and Franco just doesn't have the panache to pull it off. I found myself trying to glaze over his parts to get to everyone else.

Glinda the Good:

Michelle breathed some life into an otherwise flat and boring character. I was expecting to see more from Glinda's back story, motivation. Too saccharine sweet. I couldn't help remembering Anne Hathaway's White Queen from "Alice in Wonderland". At least Anne Hathaway's character seemed mildly crazy in one seen and you could tell that there was more under the surface. Glinda is all surface and it was boring.

Mila Kunis/Theodora:

Let's have a moment of silence to lament what complete train wreck this role was and how Mila Kunis drowned in it. This has to be the biggest let down in the film. The Theodora back story line is weak, unbelievable, and neuters one of the best characters in movie history. They should really be ashamed of themselves for this one. Mila Kunis simply could not survive the weight of such an atrocity and was over-shadowed by Rachel Weisz at every turn. Mila was beautiful in almost every shot and she tried her damnedest to make it work, but this character just fell by the wayside. I feel a Razzi coming on. On the bright side; she made a good amount of money for her work.

Recommendation:

If you are going to see it, see it in 3D. Do not compare this movie to the original. There is nothing that could ever be done in any "Oz" movie that could make it measure up to the original, so don't even try. This is not the movie that is going to last in the minds of men. Just enjoy it for the sets, gloss over the holes, and just try to have a good time. Concentrate on the flying monkey and how beautiful and magical it looks.