N/A

2.5/4

2.5/4

2.5/4

1.5/4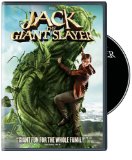 Jack the Giant Slayer
Jack the Giant.... Wait, What? I already forgot..
2.5/4 stars
This movie had a lot of potential but it didn't quite get there. It sets up a nice premise where you think you're going to get nice round main characters that equally add to the movie, but no. The princess is the damsel in distress and falls behind Jack when they set her up as some adventurer. Nicholas Hoult does well and fits the part but it's not much of a part. Ewan McGregor has the best lines and hair. I expected a lot more from the giants over all but there was one cliche after another. This is another case of a great cast being under utilized and the pacing needs work.

CGI is almost always a disaster and never quite fits in the real world, but it wasn't bad here. This is a decent fantasy flick that isn't bad but not that great. The entire idea behind the movie was really good and I like the tie in to the future. The actors did the absolute best with what was given and it makes me long for what could have been. Alas, it's enjoyable but forgettable. It's a shame because I was looking forward to this one.

Recommendations: It is a fun movie but I really don't know who this movie was for. There's too much graphic violence/death to take the kids, not enough action for the guys, not enough drama for the girls, and I have no idea what anyone over 30 would do with it.