2/4

3.5/4

0.5/4

1.5/4

1/4

1.5/4

1.5/4

4/4

2.5/4

1/4

3.5/4

4/4

0.5/4

0.5/4

0.5/4

2.5/4

1/4

2.5/4

0.5/4

4/4

3.5/4

2/4

2.5/4

3.5/4

3.5/4

Next 25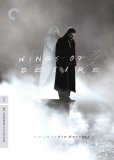 Wings of Desire ( Himmel über Berlin, Der )
Pure Perfection.
4/4 stars
This film is a breath-taking work of art.

The acting (and the chemistry between Ganz & Dommartin, two angels/friends who have seen it all from Earth's beginning), the cinematography - the use of black and white in the Angel's "realm", and color in ours (symbolizing the richness and beauty we get to experience as humans) - Amazing. The poetic writing revealing the thoughts of Berlin's citizens is fascinating...as is the main character's conflict.


Instantly made my list of all time favorites, and pushed me to explore all of Wim Wender's work.