2/4

3.5/4

0.5/4

1.5/4

1/4

1.5/4

1.5/4

4/4

2.5/4

1/4

3.5/4

4/4

0.5/4

0.5/4

0.5/4

2.5/4

1/4

2.5/4

0.5/4

4/4

3.5/4

2/4

2.5/4

3.5/4

3.5/4

Next 25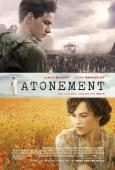 Atonement
Wishy-Washy...?
2.5/4 stars
It's strange.

The cinematography is stunning...there are several difficult or unique shots here, which make me want to give it more credit..and the love letter montage (with several attempts set to various songs) was gorgeous...but as far as the movie goes as a whole......."Eh"

Unlike a few people here on Filmcrave whose opinions I continuously respect, I DO find McAvoy to be pleasing onscreen...he has the mannerisms of a stage actor, and when he (really) shoots, he scores, so his presence here increases my overall opinion....but at the risk of sounding superficial, Knightly in a backless dress is never a good idea, and this was an image that was unnecessarily repeated.

There were weak points in the screenplay, I'm guessing the novel is the way to go - but visually, this is certainly worth watching!