3/4

2.5/4

2/4

1.5/4

2/4

3/4

2.5/4

2.5/4

4/4

3/4

3/4

2.5/4

3.5/4

3/4

2/4

2.5/4

3/4

3/4

2/4

2.5/4

1.5/4

2.5/4

2.5/4

4/4

2/4

Next 25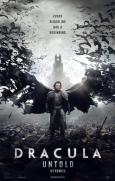 Dracula Untold
A Bit of a Disappointment
2.5/4 stars
Dracula Untold is not nearly as bad as everyone says it is, but it's also a lot worse then it should have been. The "untold" potential that this take on Dracula has will probably destroy its chances at long term success, and that's a real shame. It really isn't a terrible movie, it's just not ambitious enough for its own good.

I can't really blame the critics for getting annoyed. "Untold" begins with an exposition flashback and a series of corny expositional family scenes, none of which work even a little bit. The first few minutes could potentially give the viewer a very bad impression.

The beginning flashback is filled a silly narration and some doofy-stylish action, neither of which add anything to the movie whatsoever. Modern fantasy films often use lame expositional crap like this to tell their story more quickly, and it rarely ever works (I would even argue the The Lord of the Rings could be better without that opening narration.) "show don't tell," is one of the most important rules in filmmaking; and that rules legitimacy become obvious when you see a narrated expositional sequence like this one kill a movies momentum before it even starts.

And what does the film follow this up with? A crummy series of scenes involving Vlad, the pre-vampire Dracula, interacting with his family in the most cliché way possible. It's hard to view these early scenes without thinking about hundreds of other bad films that have started the exact same way, I, Frankenstein is a solid example. Super-hero origin stories are able to create exposition and fuel the first act without lame stuff like this, so why can't fantasy movies? Productions often fall into this first-act trap, especially studio productions. Dracula Untold is just another victim of the process.

These problems are glaring and frustrating, and it takes almost the whole rest of the film to make up for them; but it definitely does.

Instead of painting Dracula as a cool anti-hero, or a misunderstood villain. The writers have decided to make Dracula a tragic hero, the sort that the Greeks once wrote about. The movie slowly moves to be darker, and sucks less and less as it progresses. While I wouldn't call this a character study, it definitely moves in that direction. It's surprising how thoughtfully the story is told, especially during the final act.

The Action sequences mostly work as well, and the acting isn't half bad either. Luke Evens plays a solid Dracula. His dark and brooding is top notch and, though his kind and relatable could use a little work, he carries this film to its finishing. Without the energy that the actors and production team put into this script, the whole thing would be dead in the water tragedy or no tragedy.

For a movie as epic and dark as this, Dracula Untold is just too silly to really make it any better than "ok." With a few rewrites, recasts and a longer run time this could easily have been an exciting Batman Begins-Esq adventure, but instead it's a bit of a disappointment. it's is probably worth the price of admission, but only if you've already seen higher-quality movies like Gone Girl and The Box Trolls. Check it out if you like vampires, Luke Evans or choreographed sword battles.