3/4

2.5/4

2/4

1.5/4

2/4

3/4

2.5/4

2.5/4

4/4

3/4

3/4

2.5/4

3.5/4

3/4

2/4

2.5/4

3/4

3/4

2/4

2.5/4

1.5/4

2.5/4

2.5/4

4/4

2/4

Next 25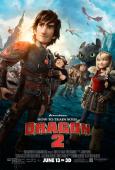 How to Train Your Dragon 2
Best Animated Film in a Long Time
3/4 stars
How to Train your Dragon may go down in history as one of the greatest animated films of all time. Itís pacing is perfect, its stakes are high and its story is almost seamless. Itís actually considerably better then the first How to Train your Dragon. Itís even better then other modern Disney animated movies like Frozen and Wreck-it-Ralph. Itís not perfect, but itís another in a surprisingly long line of incredibly entertaining 2014 summer blockbusters that have exceeded my expectations.

Whatís truly awesome about this sequel is how it never pulls its punches. Do you remember Lion King? When Simba's father died? And we saw his corpse? I never thought that a modern childrenís flick would hit emotionally on that level again, but How to Train Your Dragon does. It doesnít talk down to itís audience like a lot of kids movies do, itís just as entertaining for adults as it is for their offspring.

The movie does get a tad bit predictable in the third act, and itís all tied up with a corny happy ending, but thatís not necessarily a bad thing. For the early parts of the movie I forgot that I was watching a movie, and was nearly convinced that Hiccup and his friends were in real danger, and that is exactly what a movie like this is supposed to do. Iím kind of happy that everything turned out all right in the end.

This bigger then life sequel is objectively the best animated film to come out in the past three or four years. Itís worth checking out weather you have kids or not.