3/4

2.5/4

2/4

1.5/4

2/4

3/4

2.5/4

2.5/4

4/4

3/4

3/4

2.5/4

3.5/4

3/4

2/4

2.5/4

3/4

3/4

2/4

2.5/4

1.5/4

2.5/4

2.5/4

4/4

2/4

Next 25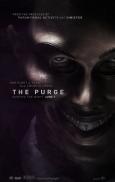 Purge, The (2013)
"Meh" Horror Flick Doesn't Fulfill It's Potential
2.5/4 stars
The Purge suffers from a serious case of "stupid-it is," and an even worse case of "not scary-it is," but at least it's entertaining.

If it wasn't for its ridiculous premise The Purge would be a dull as dirt slasher flick. The movie doesn't know what the heck it's trying to do (for a movie that's apparently anti-violence, it sexualizes violence quite a lot) but I think that might actually be for the best. The utter ridiculousness of what's happening, and the way the movie seems to sleepwalk through its potentially clever premise is the only thing that makes this movie stand out.

Go see it if you like horror movies or are interested in the premise, otherwise you'll probably be okay to skip this one. It's not really bad, but it's not particularly good either.

Admittedly there's a scene where Ethan Hawke shoots a bunch of people with a shot gun that's pretty cool.