2.5/4

1.5/4

N/A

4/4

3.5/4

3/4

3.5/4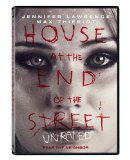 House at the End of the Street
I liked it!
3.5/4 stars
Not a great movie but still good to the end!

I figured this would be a typical creepy neighbor type horror flick and in a way it was exactly that but with an interesting little twist. I found the dynamics of the mother-daughter relationship to be quite believable. I found it a little difficult to sympathize with the character Ryan until the very end when it was revealed what he had endured in his childhood.

All in all a good jumpy horror movie that will leave you questions how on earth some people become parents. I liked this movie enough that I will be buying a copy soon.