2/4

3.5/4

3.5/4

1.5/4

3/4

4/4

3.5/4

0.5/4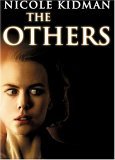 Others, The (2001)
Psychological thriller with a twist
3/4 stars
When I saw the plot of this movie, I thought it was interesting, so I decided to watch it. It has a small cast of characters, and is set in one place...a manison.

It is NOT a horror film, but a psychological thriller. Some of the script is a little bit long winded, but I think they wanted you to learn more about the characters and his/her inner psyche.

As you watch the film, you start to feel like you want to know the answers behind the hauntings and what was going on. The ending gives away the answers in a twist, and that's what was so memorable about the film. Kind of a Sixth Sense twist.

The only negative thing is, after this film is over, you already know the answer so it's not a movie that you would watch over and over like Avatar, Star Wars trilogy, Lord of the Rings and the like.

If you're a fan of Nicole Kidman, Psychological thrillers you'll enjoy this movie.