4/4

1/4

3.5/4

0.5/4

4/4

4/4

3/4

2.5/4

3/4

3/4

2/4

3/4

0.5/4

1.5/4

3.5/4

1.5/4

3/4

1.5/4

3.5/4

2.5/4

4/4

3/4

2.5/4

1.5/4

0.5/4

Next 25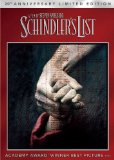 Schindler's List
Truly remarkable
4/4 stars
Schindler's list is one of the most remarkable pieces of cinema ever created. It is an epic drama, but never loses its personal feel. Any audience member with a beating heart should be able to tell that Spielberg has poured his heart and soul into this nauseatingly intense film showing the inner depths of the human soul. Liam Neeson stars as Oskar Schindler, a role that he should have easily gotten the Academy Award for best actor for in 1993. But, due to the exploding stardom of Tom Hanks and his sorrowful AIDS drama Philadelphia, Neeson lost.

Everything in this film is 100% perfect. It is shot in black and white, only showing the red of a young jewish girl's coat, as Schindler sees her shortly before her death. You see the emotional depth of Schindler as he hires as many jewish workers as possible, to keep them out of death camps. Schindler's accountant and friend, Staern, helps him pick out hundreds of jews for his workshops. In this, he has to maintain the evil appearance of a Jew-hating Nazi, while still trying to save them. One of the best scenes is when Goeth (horrifically and amazingly portrayed by Ralph Fiennes) and other Nazi's are sitting and talking, in front of train cars loaded with imprisoned Jews, burning in the summer sun. Schindler gets up, and begins hosing them down, acting as though he is giving them false hope.

It is an incredibly daunting piece that stretches human emotion to its limits. Everything in the film doesn't lead up to the end of the war, where Schindler has to run away as a war criminal, leaving all those he saved behind. That is as touching of a scene as you'll ever see, but the real resolution comes afterwards, in full color, and present day. It is the jews that Schindler saved (hence, the name Schindler Jews), placing stones on top of his gravestone. It is one of the saddest scenes in the history of film, and will always remain, just that.