2/4

3.5/4

2.5/4

0.5/4

1/4

4/4

4/4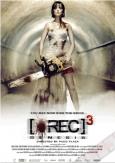 [ REC ] 3 Génesis
crapy movie ( contains some spoilers )
1/4 stars
oke well, i don't even know where to begin. First of all i thought the first two movies were good. They were exiting, thrilling and scared the crap out of me but this one was really disappointing. I thought this one was really boring.
In the beginning i didn't even understand what it was about. Maybe i wasn't paying enough attention to it but it didn't got by attention like the first one did.
I thought it was quite stupid how the men where dressed up like knight and were running around with swords and i din't like the ending. Why cut of the arm when she's already infected i mean that won't even help you one bit.