3/4

4/4

3/4

3/4

1.5/4

3.5/4

3/4

3/4

3/4

2/4

3/4

3/4

3/4

3/4

2.5/4

2.5/4

2.5/4

3/4

3/4

3/4

3/4

1/4

3/4

3/4

3/4

Next 25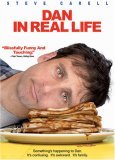 Dan in Real Life
Single Daddy Double-Feature (Part 2)
3/4 stars
Within a couple of days last weekend, I unintentionally saw two different movies with the similar theme of a single father trying to recreate his life several years after his wife's death. Such a coincidence probably caused my to think more harshly about the first, "Smart People", and more favorably about the second, "Dan in Real Life".

I love the idea of a movie that mocks the self-obsessed, book-smart people who don't have an ounce of common sense. But "Smart People" has only one or two moments where the issue is brought to the forefront. For example, Sarah Jessica Parker M.D. says about her relationship with Dennis Quaid, "We're smart people; we'll figure it out." Either that wasn't really supposed to be the focus of the movie, or it was so poorly constructed that it took this statement to highlight the focus.

But the main reason it didn't work for me was a miscast Dennis Quaid. He's too likable a guy to portray this sad sack and too much a "regular" guy to be a college professor. And after seeing his six-pack abs in nearly every other movie he's been in, I didn't buy for one second the pillow the filmmakers must have shoved under his shirt to indicate a middle-aged potbelly.

While the actor portraying the main character was the biggest flaw of "Smart People", it is the biggest asset of "Dan in Real Life". Steve Carrell is absolutely perfect playing two types: the clueless ass of "The Office" and the sad guy of "Little Miss Sunshine" and, now, "Dan in Real Life". Here, you just look at his eyes and want to start crying for him.

For two movies with such similar subject matters, "Dan in Real Life" is simply more entertaining, funny and heartwarming. I suppose its characters are more likable, also. It even threatens to be unpredictable, nearly avoiding the typically-expected ending until the last minute. While that makes it a crowd pleaser, it still is somehow more authentic.

Skin Rating (Smart People) = 1 (out of 4). One shot of Quaid's upper chest under a bedsheet. (A wider shot would have revealed the pillow.) Lovely scene with future-hottie Ashton Holmes in boxers. Wait! Just learned he turned 30 this year. May have to up the skin rating to 2 since he's no longer jailbait.

Skin Rating (Dan in Real Life) = 0 (out of 4). Nonexistent.