3/4

4/4

3/4

3/4

1.5/4

3.5/4

3/4

3/4

3/4

2/4

3/4

3/4

3/4

3/4

2.5/4

2.5/4

2.5/4

3/4

3/4

3/4

3/4

1/4

3/4

3/4

3/4

Next 25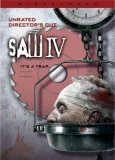 Saw IV
Saw IV; back for more
3/4 stars
I did not like the fourth installment in the series as much as its predecessor. While still cleverly-plotted and intricate, the overall movie became too convoluted for me this time around. What normally is an asset for the "Saw" movies became a liability.

Further, I believe "Saw IV" makes the usual twist inaccesible for those who are new to the series. Granted, the sequels are released with a mere year in-between, but unless you had JUST seen "Saw III", I think the big surprise would be confusing.

Otherwise, it's not a bad movie. There is gore galore and it's still a solid effort for a film series at the same point in its life cycle when other series would be phoning it in.