2/4

3.5/4

1.5/4

3.5/4

3.5/4

1.5/4

0.5/4

2.5/4

1.5/4

3/4

2.5/4

3/4

1.5/4

1.5/4

0.5/4

3.5/4

2.5/4

3/4

3/4

1.5/4

1.5/4

1/4

3.5/4

3.5/4

3/4

Next 25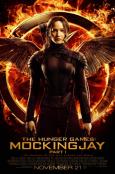 The Hunger Games: Mockingjay Part 1
Pure bore fest- mocking us
1.5/4 stars
I'm probably the only one here that thought this movie was really boring.
The main problem with these movies is it just doesn't seem real. you dont believe it, the quest to make you think theres death and danger is so over the top its like twilight in the fact that a lot is said but not much happens.
and how many times did they say mocking jay in this movie. really over the top. yes i get the message i dont need it relayed a hundred times more.
i wasn't that keen on the first hunger games i quite liked the last one but just as it was getting good it ended, and again for a film called hunger games no one dies.
This movie was boring. i cant think of one interesting thing that happened. it was really corny as well with the whole videoing her to show to the people. really corny.
i dont know what the appeal is to be honest. it had promise from the first film but its just going nowhere
again this movie like the last one just suddenly ended without nothing happening. what was the point of this movie i just dont get it? its like they were writing for time as well with all the mockinjay references
pure cash grab. for me with the blinkers off and seeing it with clear sight this is a poor movie.
take away the actors and i wonder how many would really like it.