2/4

3.5/4

1.5/4

3.5/4

3.5/4

1.5/4

0.5/4

2.5/4

1.5/4

3/4

2.5/4

3/4

1.5/4

1.5/4

0.5/4

3.5/4

2.5/4

3/4

3/4

1.5/4

1.5/4

1/4

3.5/4

3.5/4

3/4

Next 25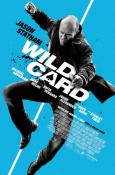 Wild Card (2015)
wild card - a loosing hand
2/4 stars
Jason statham plays a bodyguard/gamberling addict in las vega, after a friend of his is attacked by some vegas mobsters he helps her in getting revenge but the mobsters then come after him. meanwhile he is hired but a nerdy guy who wants him to be some kind of mentor.
As a staham fan i hate to say it but this is probaby his weakest film to date. its a little different to his usual films its all just very weird and kind of arty direction wise. the nerdy character who hires him is all just to weird and makes little sence especialy the ending as you never once feel they even got to know eachother.
the girl who gets beaten up who he helps was good but she comes and goes all to soon staham actually doesn't do much or seems to want to help her which is all a little to odd.
after he helps her i thought he was leaving but then it just goes into a casino scene of him gamberling. ( another scene thats dragged out far to long than it needs to be ) theres a few scenes like that that feel over long trying to fill time.
The mobster meet up is all to pointless and eventual showdown is really quick if you tied your laces you'd miss what was susposed to be the climax of the film
then it ends without much detail and while you were still waiting for it to get going. it leaves you with a oh is that it to the ending.
direction wise its a little arty. long drawn scenes trying to be surreal and deep but it lacks the story and dialogue to back it up and comes of as cheesy.
all of the characters seem disconnected from eachother. fleeting moments that are meant to mean something but there's so little interaction or depth.
i like jason to me he hasn't done a bad film ,i know when i watch his films they will be between ok good and great but this one is right at the bottom for me. its ok in the sence that it is not bad . but its not exactly that good either. its ok at best but on the lower scale
it does have a certain charm but its a loosin hand thats played here.