2/4

3.5/4

1.5/4

3.5/4

3.5/4

1.5/4

0.5/4

2.5/4

1.5/4

3/4

2.5/4

3/4

1.5/4

1.5/4

0.5/4

3.5/4

2.5/4

3/4

3/4

1.5/4

1.5/4

1/4

3.5/4

3.5/4

3/4

Next 25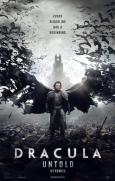 Dracula Untold
dracula untold doesn't bite it sucks
1.5/4 stars
This is a stupid movie.that reminds me of the poor i frankenstein that came out this year but not as good as that poor movie.. its just silly & boring and empty. The whole story of dracula in the cave was silly and made no sence, he would of chose anyone. the wife who falls hundreds of feet and still manages to speak with not a mark on her. the silly moving like a flock of bats and the poor bat effects was silly. the bad guy enemy just was so shallow, the effect sounds were over the top. a vampire that can kill a thousand men in one go, ridiculous, vampires are stronger and immortal not super heros. it was corny as well and just nothing rang true or connected together well. he becomes a vampire to save his family which in turn releases the cave vampire who does nothing upon release, zzz
the director in interviews came across as abit of a idiot as well by saying its not a vampire movie yet he calls it dracular about a vampire, and by saying he doesn't like vampire movies . which kind of sums up this film its done by someone who is cluless .
i was expecting a story a epic tale on a man who became a vampire to save his people and in turn became something much darker.
but instead i got a lot of silly corny scenes lots of bats that looked unrealstic and a guy that never really done much., you spend a lot of time thinking comon move the story on this cant be it surely. but then it ends.