2/4

3.5/4

1.5/4

3.5/4

3.5/4

1.5/4

0.5/4

2.5/4

1.5/4

3/4

2.5/4

3/4

1.5/4

1.5/4

0.5/4

3.5/4

2.5/4

3/4

3/4

1.5/4

1.5/4

1/4

3.5/4

3.5/4

3/4

Next 25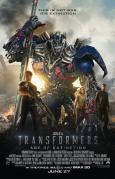 Transformers: Age of Extinction
Transformed my opinion - its good fun
3/4 stars
i cant say i'm a fan of the transformer movies as such think i liked the first one but it was so corny. this movie is far better and much bigger and grand and has that evengers look and style to it. imark wahlberg stars in this one and brings to it a much needed real edge he is very convincing in his part .
i really enjoyed it. its a very long movie you get your moneys worth. much better than other big films like x men etc but maybe thats personal taste. while the talking robots can be corny and silly at times it makes up for that in action and style and great special effects.
as for the story. wahlberg plays a broke hopeless inventer who has a 17yr old daughter who looks acts like 23 and their place is about to be reposssed when he finds one of the autobot robot trucks and makes a friend.
the sia are looking to end all ties with the autobots and wahlberg and his fmaily and the robot end up on the run. meanwhile the cia are working with a business tosecretly work on re-producing their own robots. cue alien ships mass robots lots of running chasing jumping and all kinds of action.
good film well worth watching. and i'm not keen on talking robots but its good.