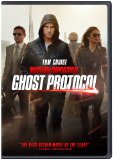 Mission: Impossible - Ghost Protocol
Mission: Impossible Ghost Protocol

As far as action movies go, Tom Cruise may be getting older, but he is getting better. Tom Cruise stars in the exhilarating action packed movie, Mission: Impossible Ghost Protocol. He plays Ethan Hunt who, along with his striking team which includes Paula Patton, Jeremy Renner, and Simon Pegg, works exceptionally hard to save the world in such little time. After a bomb almost kills him, Ethan Hunt meets his team to start an extreme mission only for the finest undercover agents. They endure whatever it takes to obtain the codes to a Russian nuclear bomb before it sets off worldwide nuclear warfare. In the movie the team does everything from fighting foreign assassins to climbing up the side of the tallest building in the world (located in Dubai). They take every risk possible to complete their mission and save the world. The thrilling action always leaves you on the edge of your seat and just when you think it is over it is not. With plot twist and new character development, Ghost Protocol in my opinion is better than the other three movies in the saga. As long as Tom Cruise keeps doing his own stunts without getting hurt, I believe we could see at least two more Mission: Impossible movies.