4/4

3.5/4

4/4

4/4

2/4

3/4

1.5/4

1/4

0.5/4

4/4

3.5/4

3/4

2/4

2/4

1/4

4/4

4/4

3/4

4/4

3/4

3.5/4

1/4

3/4

1/4

3.5/4

Next 25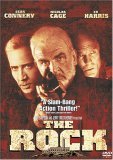 The Rock
A fun 130 minutes or so
3/4 stars
The Rock is a film that does exactly what it sets out to do. It provides solid entertainment for around 130 minutes, making great use of several action set-pieces, such as shootouts and car chases, as well as the often used "doomsday scenario" in which large amounts of people may be killed if the heroes fail and the villains succeed.

However, what prevents it from becoming a great film is its mediocre screenplay containing numerous plot holes. For example, General Hummel (Harris) is upset that his unit has received no recognition for their clandestine (and illegal) operations. How could he expect the U.S. government to recognize his unit if they were engaging in illegal activity? Doing so would prove the existence of his unit and open pandora's box so to speak. Furthermore, there is a major twist involving Hummel later in the film the practically undermines everything that has happened, which I won't spoil for those of you who haven't seen the film.

Nicolas Cage is his usual offbeat self as the nerdy FBI Agent Dr. Stanley Goodspeed. Cage's imprint is all over the role, showcasing his numerous facial tics and snarky comments. Cage provides the comic relief for this one, giving a trademark performance overall. He works well Sean Connery, who plays John Mason, the wily and resourceful former SAS operative.

On the whole, the cast is outstanding and includes many veterans of TV and film, such as John C. McGinley, David Morse, and Michael Biehn. The special effects are equally great and Michael Bay does a fine job overall bringing this one together, despite some issues with the screenplay.