4/4

3.5/4

4/4

4/4

2/4

3/4

1.5/4

1/4

0.5/4

4/4

3.5/4

3/4

2/4

2/4

1/4

4/4

4/4

3/4

4/4

3/4

3.5/4

1/4

3/4

1/4

3.5/4

Next 25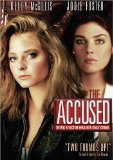 Accused, The (1988)
Blame the Victim
4/4 stars
The Accused is a powerful drama about moral failure. It focuses squarely on the "blame the victim" principle, in which the victim of a crime is blamed for the attack because of their perceived immoralities. Based on a real case from 1983, The Accused is a compelling film with great acting.

Sarah Tobias (Jodie Foster) is a waitress in her mid 20s who goes to the local bar to let off steam with her friend Sally Fraser (Ann Hearn) after having a fight with her boyfriend Larry (Tom O'Brien). While heavily intoxicated and high on marijuana, she is raped by three men on top of a pinball table. The three are eventually arrested and Assistant DA Kathryn Murphy (Kelly McGillis) is assigned to prosecute them. However, after being pressured by her superiors, Kathryn reaches a plea deal with the defendants, who agree to serve a maximum of 5 years, but will most likely be paroled in less than a year. Guilt ridden because of this, Kathryn decides to prosecute the bystanders at the bar who cheered the rapists on, accusing them of criminal solicitation.

Jodie Foster is brilliant as Sarah Tobias. She is able to build a great amount of sympathy for the character as the viewer witnesses her plight. Despite her drug use, foul mouth, and seemingly low-class existence, Tobias is a good person who only wishes to be seen as a human being.