3.5/4

3/4

3.5/4

1.5/4

2.5/4

3.5/4

2.5/4

3/4

2/4

3.5/4

3.5/4

2.5/4

1.5/4

0.5/4

3.5/4

4/4

2.5/4

1.5/4

3/4

3/4

3/4

1/4

3.5/4

3/4

3/4

Next 25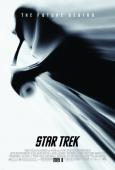 Star Trek
Simply Exhilarating
3.5/4 stars
One word: Awesome. I can't believe I loved this movie so much. I've never seen a Star Trek episode in my life, and I had never seen a Star Trek movie. I barely knew who Spock was. And yet, I found Star Trek to be a perfectly satisfying and exhilarating experience.

Star Trek is the story of James T. Kirk and Spock, two seemingly unconnected beings, that find their stories intertwined when both find themselves aboard the USS Enterprise in order to battle the story's villain, Nero, who threatens to destroy many plants in a dramatic act of vengeance.

There's so much that works in this movie, it's hard to know where to start. The action scenes are always fun. Even suspenseful at times, Star Trek boasts a perfect blend of space flights and individual combat. But the key here is that Star Trek doesn't let the action scenes or the flashy effects take over.

The story is just as important in this film, than the action; a trait that's becoming increasingly rare in modern film. The story is by no means revolutionary, but it's told with enough depth and enough punch that it doesn't feel like filler.

Still, the main reason Star Trek works so well is the excellent characters. It's been a long while since I've seen a film with such a likeable group of characters. You become attached, and I wanted to see more of them. As strange as it is to say, 2 hours with these characters seems much too short.

The two main characters, James Kirk (Chris Pine) and Spock (Zachary Quinto), didn't agree with me at first. But they grew on me as time went on. Kirk's cockiness and arrogance is reminiscent of Star Wars' Han Solo. Spock seems almost personality-less at first, though the character's depth is developed over the course of the film.

The supporting cast is actually a lot more likeable than the two leads. Dr. Leonard McCoy (Karl Urban) is delightfully crabby, whilst John Cho as Hikaru Sulu has an all-too-small role. Scotty (Simon Pegg) has a very memorable role here with a killer Scottish accent, and tons of energy in his screen presence. Anton Yelchin portrays Pavel Chekov; another energetic character that, like Scotty, owes a lot of his charm to his accent.

The only weak point in the characters is Nyota Uhura (Zoe Saldana). This may be more of a me-problem, but I just didn't like her personality. When she wasn't boring, she was boasting a cliched, tough girl character. At any rate, I was less enthralled by this Enterprise member.

The acting behind these characters are mostly solid. No one gives a bad performance, but there is an obvious range of quality in the portrayals. Quinto's performance (as Spock) is decent, but I found Pine's (as Kirk) to be more impressive. Simon Pegg is brilliant as usual, as is the rest of the supporting cast. It might be noted that some of the dialogue is a bit silly, but I suppose it's all in the Trek spirit.

Michael Giacchino's score is excellent, as always. Incorporating the original Star Trek themes, Giacchino has composed a very Giacchino-score, employing most of his best score characteristics. While not as diverse, or as character-influenced as his best work, this is still grand and melodious Sci-Fi beauty.

I may be no Trekkie, but I know a good movie when I see one. A roller coaster of effects, action, and great characters, this is superb popcorn entertainment. I missed seeing Star Trek in theaters, but based on how much I enjoyed myself watching it 4 years later, I won't be making the same mistake with Star Trek: Into Darkness.