3.5/4

3/4

3.5/4

1.5/4

2.5/4

3.5/4

2.5/4

3/4

2/4

3.5/4

3.5/4

2.5/4

1.5/4

0.5/4

3.5/4

4/4

2.5/4

1.5/4

3/4

3/4

3/4

1/4

3.5/4

3/4

3/4

Next 25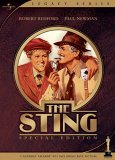 The Sting
Easy, Forgettable Fun
3/4 stars
The Sting is an ideal example of a fun, forgettable comedy. It's reasonably entertaining, it's pretty clever, and it's well acted. It's no masterpiece, and the twists and characters may feel overused now, but The Sting is still a decent way to spend 2 hours.

Master con man, Johnny Hooker seeks revenge and reward to scam Doyle Lonnegan, a gang leader who killed Hooker's long time crime partner. Hooker gets the help of Henry Gondorff and others to make this elaborate scheme work.

The plot may be paper thin, but The Sting manages to stretch itself to a rather unreasonable 2 hours. Certainly a sub-plot or two could've been removed and shaved off at least half an hour. Despite the length, The Sting is (mostly) entertaining from beginning to end.

Production values are high. Cinematography is good, costumes are good, etc. It's hard to pick out a flaw in a movie like this. It's far from perfect, but The Sting makes few stumbles (though the script certainly could've been better).

Acting is top notch. Paul Newman as Henry Gondorff pulls off the character well, and Robert Redford completely fades into the role of Johnny Hooker. Robert Shaw portrays a very interesting villain as well.

The score (adapted by Marvin Hamlisch) is upbeat and jazzy. Clearly influenced by "The Entertainer," Hamlisch's score is a high point in the film.

Besides the fact that's it late and I'm ready to turn in, I find myself with absurdly little to say about The Sting. I was entertained for the better part of 2 hours, and I will be checking out the score. What caused The Sting to be received with such acclaim is beyond me, but there are worse ways to spend a couple hours.