3.5/4

3/4

3.5/4

1.5/4

2.5/4

3.5/4

2.5/4

3/4

2/4

3.5/4

3.5/4

2.5/4

1.5/4

0.5/4

3.5/4

4/4

2.5/4

1.5/4

3/4

3/4

3/4

1/4

3.5/4

3/4

3/4

Next 25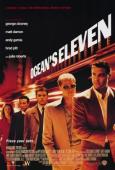 Ocean's Eleven (2001)
Low on Logic, High on Entertainment
3/4 stars
Ocean's Eleven is not trying to be a masterpiece. I greatly appreciate this about Ocean's Eleven. It's not trying to be perfect (because it clearly isn't). It's only goal is to provide a very entertaining two hours, in which it succeeds and excels at.

Danny Ocean has just gotten out of prison, and has no intentions of returning to society as a model citizen. Rather, he plans a heist to rob three of Vegas' biggest casinos and loot over 150 million dollars. Of course, this job is too big to do alone. Ocean get's 10 other recruits, for a total of eleven people, making this genius heist.

Ocean's Eleven would like to convince you that there's an emotional core to the film. In fact, there is, in the form of Ocean's ex-wife Tess, whom he is trying to win back. Alas, this romance is written with a minimal of elegance, and creates problems for the film's pacing. Ocean's Eleven is at it's best when ignoring the romantic aspect of the film, and focuses on entertaining.

Despite the fact that Ocean's Eleven is, in fact, a heist movie, the action is not what makes Ocean's Eleven such an entertaining film. It's the characters, whom are funny, developed, and best of all; memorable. Ocean's Eleven has a huge assembly of wonderfully entertaining characters who really make the movie.

George Clooney plays Danny Ocean who we sympathize with, and he gets much of the one-liners. Brad Pitt portrays Rusty Ryan, who may strike one as less humorous than the rest of the cast. Matt Damon plays a nervous wannabe named Linus Caldwell, and Julia Roberts acts as Tess- Ocean's ex. The more humorous characters, Saul, Basher and Reuben (the arguable standout that should've been in more scenes) are played by Carl Reiner, Don Cheadle and Elliott Gould respectively.

Constant attempts at "quotable" lines are made, and while most of them work, a decent amount fall flat. Some are so bad you may wince. Though it's unlikely you'll remember too many of the bad lines when there are so many memorable ones. You're likely to have a couple favorites by the end of the film.

Similarly to Ocean's Eleven's attempt at romance, this film also tries to convince us that this is an intelligent film. This is by no means a smart movie. Nor is it a dumb one. While it's general ignorance to things like common logic may irritate some, this is still far more intelligent than most popcorn flicks.

The score, by David Holmes is not poor, by any means. It's just a little generic. It has a basic jazz feel without doing anything truly unique. The emphasis on electronic sounds was also irritating. It works well for the movie overall, but it's extremely forgettable. Also, the music played at the end is truly atrocious, mostly because it doesn't match the film at all. A clunky piano piece and a sudden change to orchestra made the ending feel incredibly dramatic, like the conclusion to a masterpiece. Ocean's Eleven is not a masterpiece, and the music is almost laughably out of place at the end.

Flaws aside, Ocean's Eleven is marvelously entertaining and incredibly fun. Not everything works, but it's such a fun ride you'll hardly care. A true winner, if far from perfection.