3.5/4

3/4

3.5/4

1.5/4

2.5/4

3.5/4

2.5/4

3/4

2/4

3.5/4

3.5/4

2.5/4

1.5/4

0.5/4

3.5/4

4/4

2.5/4

1.5/4

3/4

3/4

3/4

1/4

3.5/4

3/4

3/4

Next 25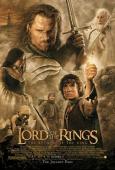 Lord of the Rings: The Return of the King
The Best of the Trilogy
3/4 stars
The Lord of the Rings is a somewhat dull trilogy. The Fellowship of the Ring had enough exciting moments to warrant a recommendation, but The Two Towers was inexcusably boring. The final chapter in the trilogy, while still being tedious in parts, is by far the most entertaining.

The plot has not changed in this third installment. Frodo and Sam are trying to get to the land of Mordor to destroy the ring with the (supposed) help of Gollum.

The film's opening is the strongest opening of the entire series. We see Gollum as a hobbit (his name was Smeagol) fishing, when his friend finds a ring in the river. The two fight, and it ultimately ends in Smeagol strangling his "friend." We see years pass as Smeagol slowly transforms into the Gollum. The transformation is grotesque, and to some, maybe even nauseating, but it's wonderfully creepy and truly enjoyable.

Gollum continues to be the most interesting character. With the dark side of him winning over the good side, Gollum begins to get Frodo to think Sam is his enemy. The psychological parts of the first have nothing on these.

The Return of the King is by far the most dark of the three films. Unfortunately, the ending feels way too happy. After the darkness of the film, I was expecting an appropriately tragic ending. Alas, it feels happy in a forced sort of way. And the ending is certainly not assisted by an unnecessary 30 minute epilogue.

The Return of the King is not devoid of dull moments, but it's comparatively faster paced than the other two. There is more action than the other two, though much of it isn't very exciting. The best action segment (and quite possibly my favorite segment of the series) involves Frodo being deceived by Gollum and lured into the layer of a humongous spider. I do have a very slight fear of spiders, so this was especially scary for me, but in a good way. This makes up the most thrilling part of the film, with the possible exception being a fight between Frodo and Gollum near the end for the ring.

There really isn't anything to be said regarding the acting, score or special effects that I haven't already covered in my reviews of the other two Lord of the Ring films. Everything is excellent.

The Lord of the Rings will not go down as my favorite trilogy, or even my second favorite. But this satisfying conclusion makes me look at the trilogy in a more positive light. Through all the flaws of the series, and even this particular series, I suppose it has been pretty epic.