3.5/4

3/4

3.5/4

1.5/4

2.5/4

3.5/4

2.5/4

3/4

2/4

3.5/4

3.5/4

2.5/4

1.5/4

0.5/4

3.5/4

4/4

2.5/4

1.5/4

3/4

3/4

3/4

1/4

3.5/4

3/4

3/4

Next 25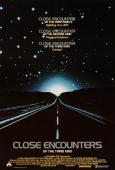 Close Encounters of the Third Kind
Just Watch E.T. Again
0.5/4 stars
Note: The Director's Cut is the version viewed.

Close Encounters Of The Third Kind is not entertainment. It is torture. Despite Close Encounter's legacy, I cannot recommend it on almost any level. Yes, it has greatly impacted culture and films, but this is not entertainment. This is the destruction of a family, a father slowly turning insane, and an overall traumatizing affair turned into a film. I repeat for a third time, Close Encounters is not entertainment.

The, slightly confusing, story follows a man named Roy, who's life is changed when he sees several UFO flying around his hometown. He becomes obsessed with a strange shape and sculpts it endlessly. He begins to go crazy, and his family is devastated. In a nutshell, that is the plot. And while parts of the story seem somewhat intriguing, they are executed poorly.

A good portion of the film centers around Roy growing crazy and the effect it's having on his family. Do we really need all this screen time focusing on the arguments and stress that his family is experiencing? We get the point, his family is vexed, you don't have to emphasize your point with a sledge hammer!

But watching Close Encounters is not only stressful, but it's also incredibly boring. At over 2 hours in length, Close Encounters is a tedious film. It lacks any kind of excitement (minus in one somewhat crucial scene involving a UFO abduction) and is generally devoid of humor. UFOs are teased to the audience, but never in length until the end.

The slowness of the film may not have been a big deal, had the pay-off been substantial. Alas, it's just as dull as the rest of the film, though the most impressive special effect work occurs here, and it is indeed impressive.

The score is shockingly pedestrian, despite coming from master composer, John Williams. There is actually little music to speak of, excepting the famous five note theme. I've come to expect so much more from Williams, but this is a major disappointment.

I feel little need to waste any more of my life than I already have on Close Encounters Of The Third Kind. I despised it and saw it as an exercise in tedium and stress. To see a family fall apart is not entertainment. If other plot points were executed well enough, this wouldn't be a problem, but the whole thing is a big mess. If you want aliens and Spielberg, you'd be better off watching E.T. again.