3.5/4

3/4

3.5/4

1.5/4

2.5/4

3.5/4

2.5/4

3/4

2/4

3.5/4

3.5/4

2.5/4

1.5/4

0.5/4

3.5/4

4/4

2.5/4

1.5/4

3/4

3/4

3/4

1/4

3.5/4

3/4

3/4

Next 25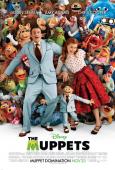 The Muppets
The Finest Muppets Film Of Them All
3.5/4 stars
The more I think about it, the more I realize that I never really liked the Muppet films. Don't get me wrong, I love the Muppets themselves, and The Muppets Take Manhattan is one of my all time favorites, but the rest of the Muppet movies haven't quite met my fancy. Alas, this bright new Muppet film, aptly titled The Muppets, was not only a Muppet masterpiece, it's also perfectly fun for even Muppet novices.

In a purposely cheesy and paper thin plot, the Muppets and co must raise 10 million dollars to save the Muppet Studio from being torn down by oil tycoon, Tex Richman. The only way to do this: Put on a show! (Of course!) But will the new wave of audience members, who have long since forgotten the Muppets, fall in love with them again?

The Muppets is not only a practice in nostalgia, but it also has enough humor and good cheer to easily stand as it's own movie to those who haven't grown up with the Muppets. The whole gang is back (Rizzo the Rat excepted, not that I mind), and they're just as you remember them (even if Statler and Waldorf are just a wee bit less witty). Certain Muppet's screen time is limited (so don't expect Scooter to rival Kermit for the limelight), but having all the Muppets back is certainly a treat.

Of course, there are certainly some new Muppets too. The main character, Walter, for instance. Walter is what you would expect from a main character; bland and hopeful. Some of these characteristics were purposefully overdone, others feel less purposeful.

The strength of The Muppets come from it's humor, which is fun and varied. Witty one liners, references to previous Muppet films, satire humor, and some slap stick for the kids. There's also a lot of breaking of the fourth wall, which is done superbly to hilarious effect. This is arguably, the funniest Muppet film yet.

You feel obliged to laugh, not just from the humor, but from the atmosphere. Everything is just so happy and cheerful, it's feels ridiculous, but in a good way. It's hard for me to imagine someone not smiling during The Muppets. I personally had one plastered on my face for almost the entire run time.

Of course, musical numbers also make up The Muppets. And while these numbers aren't quite as memorable (or catchy) as that of The Muppets Take Manhattan, they're fun and oozing with joy. Life's A Happy Song is hilariously happy and cheesy, and the film's villain get's a brief rap which is humorous and unexpected. The Mupppets actually won an Academy Award for the song Man or Muppet. Personally, I thought this was one of the weaker songs in the film, and I'm surprised it was even nominated. By no means is Man or Muppet bad, it's just not that memorable.

The acting is appropriately hammy, and audience members will certainly find themselves chuckling from the acting alone. Jason Segel, playing Walter's human brother Gary, and his girlfriend Mary played by Amy Adams don't have much to do during the film, but they at least appear to be having fun. Cameos abound. Whoopi Goldberg, Selena Gomez, Neil Patrick Harris and many others get humorous small parts. Jack Black also receives a slightly longer role, portraying himself.

The score by Christophe Beck is comedic and fits like a glove for The Muppets. At times, it feels like it doesn't have much to do, but it does a great job blending with the Muppet world.

It would be hard to dislike The Muppets, even if you haven't been a fan of the Muppet's exploits to the big screen. Overflowing with joy and happiness, and with humor and cameos to spare, The Muppets is one of the most fun and enjoyable films I've had the pleasure of seeing. In a world where gloomy films like The Dark Knight trilogy dominate, it's nice to know that happier films like The Muppets are still around.