3.5/4

3/4

3.5/4

1.5/4

2.5/4

3.5/4

2.5/4

3/4

2/4

3.5/4

3.5/4

2.5/4

1.5/4

0.5/4

3.5/4

4/4

2.5/4

1.5/4

3/4

3/4

3/4

1/4

3.5/4

3/4

3/4

Next 25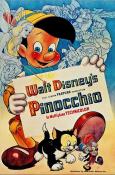 Pinocchio (1940)
They Don't Make Movies Like This Anymore
3.5/4 stars
I doubt Disney would ever produce anything like Pinocchio these days. Disney isn't gutsy enough. To be honest, I still don't know how this got into theaters. Disney scarcely ever makes a film as subtly dark as this. On the surface, Pinocchio is a typical Disney children's film, but underneath, Pinocchio boasts a variety of dark themes that work like a charm. It's a shame Disney will likely never make something like Pinocchio again, because it's just so good.

Pinocchio is a very strange story. Even stranger than I originally anticipated. Geppetto, a wood carver, was quite pleased when he was finished with his wooden puppet, Pinocchio. He was even more pleased when it turned into a real boy. And with Jiminy Cricket as Pinocchio's conscience, what could go wrong? Well, a lot. Temptation proves too much for Pinocchio, and, without spoiling anything, he gets into a lot of trouble.

Part of what makes Pinocchio such a great movie is the characters. Geppetto is a mumbling wood carver who cares a lot for Pinocchio, and is easily excited. Jiminy Cricket, one of Disney's most enduring characters, makes many humorous quips that aimed more at the older crowd. And Pinocchio? He's certainly adorable, but his frequently obliviousness between right and wrong may grow tiresome to some viewers.

There are a few songs in Pinocchio, as one would expect from a Disney film, and while all are pleasant, there aren't too many memorable tunes. Naturally, the most memorable (and most recognizable) tune is "When You Wish Upon A Star," which is a sweet and beautiful song that, unlike the other songs in Pinocchio, has become a genuine classic, and well deserved too.

One memorable scene occurs towards the beginning when the many clocks in Geppetto's house go off at once. There are many sight gags, all of which should evoke chuckles. It's moments like this that really make Pinocchio a treat.

The animation in Pinocchio surprised me. Even for today, the animation is really sharp and detailed. It's certainly one of Disney's more visually dazzling adventures.

I mentioned early in this review that Disney would never make a film like this nowadays, and this is because of some of the slightly questionable themes. One of which occurs near the end where children are kidnapped and taken to an island where they are turned into donkeys, whipped, then sold into slavery. This may seem slightly disturbing, and it is, but it works.

If only Disney still made risks like that. Instead, they often take the predictable path that, while can be sweet sometimes, more often is disappointing.

Pinocchio is a unique Disney film that is better than almost anything Disney has served up in the last decade. It's a shame Disney isn't brave enough to do things like Pinocchio these days. With memorable characters, one of the most enduring Disney songs of all, and a lot of heart makes up Pinocchio: One of Disney's best creations.