3.5/4

3/4

3.5/4

1.5/4

2.5/4

3.5/4

2.5/4

3/4

2/4

3.5/4

3.5/4

2.5/4

1.5/4

0.5/4

3.5/4

4/4

2.5/4

1.5/4

3/4

3/4

3/4

1/4

3.5/4

3/4

3/4

Next 25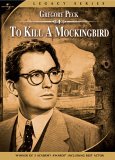 To Kill a Mockingbird
Worthy of it's praise
3.5/4 stars
I shouldn't have to tell you that To Kill A Mocking Bird is considered to be one of the greatest films ever to be made. I shouldn't have to inform you that this film is based off of the book by the same name, which is met with an equal amount of praise. But what I say now is important: This film is certainly worthy of all the praise.

To Kill A Mocking Bird is based off of Harper Lee's book by the same name. It's about a young girl named Scout, and her older brother Jem, and their puny friend, Dill. Scout's father, Atticus (Gregory Peck) takes a case to defend a black man named Tom Robinson, who is charged of raping a white woman.

That's really all there is to it. It's a simple tale, but an affecting one.

One of the best parts of the film, is the title sequence: A skillfully edited opening displaying wonderful cinematography and a beautiful score. During the title sequence, we see Scout, rummaging through a box of play things. She hums an eerie tune as she doodles with crams, creating a magical opening sequence with a slight creepy tinge.

The acting is wonderful. Some of the best I've seen. The kids are very loveable (though Dill may take some getting used to), and Gregory Peck's performance as Atticus, is strong, though I still don't believe it's good enough to win an award (though it did). People say it's an understated performance, but that doesn't change my mind. Peck did well, but not award-winningly well.

I briefly mentioned the score, and I will mention it again. It is composed by Elmer Bernstein. The music captures the innocence and wonder of being a child, and accents and punctuates the film's main feel. The score emphasizes on the piano, with good use of the flute, and good use of the violin later on. Towards the end, Bernstein appears to have a fancy for harmonicas, which he utilizes well. To Kill A Mocking Bird's score is one of the best scores I've ever seen. Don't miss it.

The film has an innocent, child-like feel, but when Tom Robinson's trial starts, that innocence goes away. It returns, and strongly too, during Scout and Jem's Halloween walk back home. As I mentioned before, the music does wonders for capturing that feeling.

The movie is not extremely faithful to the book, however. It keeps the main points, but many things are changed or altered. Most of the character's roles are shrunken, and some characters have been omitted all together. Much of the humor from the book came from the narrating, but without a narrator, much of that humor is lost.

Also, the book took it's time with everything. The film is odd, in the way that it is over two hours long, yet it doesn't feel very long. But at the same time, the events go by much quicker in the movie then in the book, but the movie doesn't feel rushed. It retains that laid back feeling.

To Kill A Mocking Bird still has humor and charm, but not quite as much as the book. I am not going to lower the score of the film due to the differences between the book and film, but I do want to point it out. There are many characters who didn't get enough screen time, however, and in the book, it wasn't like that.

But I digress.

In an odd way, To Kill A Mocking Bird (the film, not the book), reminded me of the film adaption of Lemony Snicket's A Series of Unfortunate Events. I very much enjoyed the book series, but it didn't work as a movie. Too much humor is in the narrative, so a lot of humor didn't translate well. Also, the film rushed many of the events, and changed things quite a bit.

To Kill A Mocking Bird is very similar in all these respects, but the difference is this: To Kill A Mocking Bird works.

Even if To Kill A Mocking Bird doesn't give some of the characters enough screen time, this film is certainly worthy of the praise it has received. Wonderful acting, an incredible musical score, and a meaningful story are only a small segment of what makes To Kill A Mockingbird the masterpiece it is.